Introduction: The Circle of Love and
Grief
For a combined total of more than three decades, Nancy and I have led support groups for people whose dogs, cats, rabbits, birds, horses, and fish—yes, even fish—have died. We've been trusted with tales of love and grief, each one helping us better understand what it means to be a human being, deepening our appreciation for life and the relationships we cherish. Twenty-five years ago, when I was a young therapist, a wise woman told me that we inevitably pay for our love with grief— "inevitably" because all relationships end. She also promised that love proves to be worth its cost every time. We've seen the truth in her words countless times in stories told by people after losing their companion animals. We wrote this book to share what we've learned. Companion animals draw our attention in a unique way. Not long ago while on vacation, my spouse, our two best friends, and I ambled toward our docked cruise ship along a busy street in Ireland's seaport town of Cobh. We marveled at the pastels of yellow, pink, and green row houses lining our steep descent, the grey stone cathedral, and the water directly ahead that mirrored the sky's rainy blue and filled the serpentine contours from harbor to horizon. The sights and sounds of this foreign place captivated us. Suddenly, a small bouncing fluff of white grabbed our attention in a way that pushed everything else aside. Ten paces ahead a young Irishman's West Highland white terrier had jumped up from his sit and stay. One after another, people smiled and dodged the ten-week-old puppy. Many of us couldn't resist stopping. Smiling broadly, the young man told us he was teaching his pup street manners. After the rest of us stroked the puppy's head, my friend, David, scooped her up, and cooed "Aren't you adorable!" He held her against his face. Smitten. What captivated us in that flash of bouncing white fuzz? I believe we're drawn to companion animals by their absolute innocence. These are beings who present themselves exactly as they truly are—no pretense, vanity, or self-consciousness. Nobody would doubt the sincerity of my four-pound, long-haired Chihuahua, Isabel, as she bounces, yips, and wiggles her curled-over plume of a tail upon my arrival home each evening. Like other companion animals, she radiates an "other worldly" measure of honesty. Indeed, our companion animals bridge us to the world of fields, open sky, forests, and rivers. They bring us close to nature in a way that many people find healing. The relationship we enjoy with a West Highland white terrier, one-of–a-kind (mixed-breed) kitten, Mini Rex rabbit, parakeet, or other companion animal enriches our lives in ways that no human-to-human bond can. We learn to become more generous, compassionate, open, caring, and even more responsible, through our relationships with animal companions.
Read More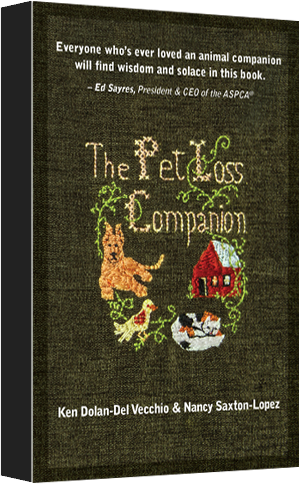 "If you have ever lost a beloved pet and have wondered if your feelings are normal, this book is a must-read for you. Ken and Nancy, in this single book, have captured the emotional roller coaster that most people experience during the end stages of the life of their pet. In addition, there are helpful insights into their world as bereavement counselors and how they have helped their patients deal with the experiences of death. I have practiced Veterinary Medicine for over 30 years and have finally found a book that can be given to my grieving owners after such a trauma."
– Anthony Miele, DVM, CEO, Veterinary Asset Management, Inc.